Image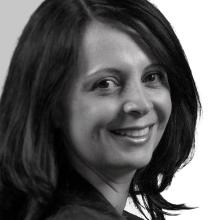 Software Development
Biviana Sanchez is the assistant director of software development at the NFLC, mainly serving the STARTALK program. Her work at the NFLC focuses on designing and managing the implementation, operation, and maintenance of an online program information system that manages grant applications, electronic records and documents, and e-learning tools such as online curriculum templates.
Her experience on software development life cycle, using Scrum and Agile methodologies and direct-line management of project scope, time line, budget, issues, and risks, has helped her successfully manage and deliver several large and small software development and system integration projects from conception through implementation.
Before joining the NFLC, Biviana worked for ten years as a technical project manager on the requirements, design, implementation, and maintenance of software information systems for various government agencies. She has experience working with diverse cross-functional project teams and is always looking to introduce new and relevant technologies, frameworks, methods, and concepts to improve system performance and the execution of her projects.
Biviana earned a bachelor's degree in electronics engineering and a master's degree from the University of Maryland in telecommunications and management.