Image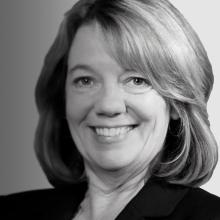 Debbie Grover is director of operations and a member of the Executive Committee at the NFLC. In this role, she oversees all NFLC operational matters, including human resources, administration, finance, IT, compliance, and facilities management.

Debbie joined the NFLC in September 2007 as a member of the executive team after serving seventeen years as a department administrator at Johns Hopkins University. At Johns Hopkins, she directed the administration of academic, financial, and human resource programs in the Departments of Mathematics, Cognitive Science, and Psychological and Brain Sciences, respectively. During that time, she administered numerous grants from several agencies, including the National Institutes of Health, the National Science Foundation, the Federal Aviation Administration, and the Department of Defense.
Debbie is an active member of the Society for Research Administrators and the National Council of University Research Administrators. She spent several years as a member of the University of Maryland's Staff Affairs Committee and the Council of University System Staff.

She holds a bachelor's degree in psychology, a master's degree in developmental psychology, and a postgraduate certificate in adult learning, as well as additional certificates in management and leadership, research administration, and federal contracting.