Image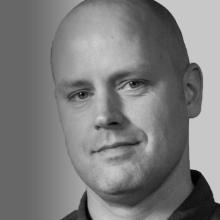 Editing
John Cords is the manager of the editing team at the NFLC. He has been a professional copy editor, proofreader, and developmental editor since 2006, mainly working in scholarly publication, higher education communications, and educational materials production.
John joined the NFLC as an editor in 2010 and became manager of the editing team in 2011. He is responsible for hiring, training, workflow management, and quality assurance for the team. He determines preferred NFLC style, makes decisions regarding editorial style issues for each project, interprets and communicates our sponsors' preferences, ensures the editorial quality of NFLC products and publications, serves as a liaison with other NFLC units, and maintains NFLC documentation on a range of editorial and quality assurance matters. He also serves in an advisory role regarding copyright, pedagogical concerns, and citation and use of secondary sources for the NFLC as a whole.
He has a bachelor's degree in philosophy from St. John's University in Minnesota and a master's and PhD in English language and literature from the University of Michigan.