Image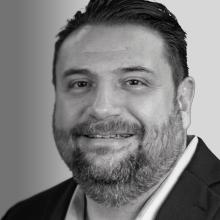 Finance
Thomas Gavin is the Assistant Director of Finance at the National Foreign Language Center (NFLC), at the University of Maryland. As Assistant Director of Finance, he oversees, monitors and provides oversight of all financial transactions, financial management, financial reporting, financial forecasting and financial accounting activities. Responsible for managing the financial team that administers, provides and oversees the Center's financial management with all invoicing , travel, shared services, procurement, language consulting contracting, project accounting, ledger management, financial reporting, financial forecasting, financial systems transactions, KFS transactions and reporting. Mr. Gavin is the Center's connection between the NFLC and campus related financial centers and transaction centers, which include, General Accounting, Accounts Payable, Procurement, Kuali Research Systems, Office of Research Administration, and Sponsor Accounting. 
Mr. Gavin has over 27 years of experience in applied engineering and research, financial management, operational management, portfolio, program and project management, and resource management. His 27 years of professional experience includes 9 years working for several distinguished engineering firms, as an engineer, project and program manager, and senior financial analyst. Over 8 years of experience working for large investment firms and financial banks, as a senior financial analyst, financial manager and senior program manager. Additionally, around 7 years working for the Federal Government's Intelligence Community, as a government employee, and government business and financial management consultant, as a portfolio planning manager, senior financial business manager, an intelligence officer senior research analyst, and a senior project engineering manager. 
Mr. Gavin has worked with the University of Maryland for over 3 years at two language research centers, including 2 years at the Center for the Advance Study of Language (CASL) and currently over 1 year for the National Foreign Language Center (NFLC).
Mr. Gavin earned a Bachelor of Science in Civil Engineering and a Master of Engineering in Portfolio, Program and Project Management, from the University of Maryland, at College Park. His areas of focus and expertise are in project engineering, financial engineering, financial management, financial performance measurements, project management, program management, portfolio management, risk management, organizational management, and resource management. 
Mr. Gavin has graduate level research in the following areas: critical chain & simultaneous management planning, management of project teams, project management simulation, federal government strategic project execution, web-based software systems, financial investment firms procurement process, financial analysis and forecast modeling, cost and schedule management, and personal development plans for team assessments. 
Mr. Gavin has had formal corporate and government training in project engineering and management, project budget, financial forecasting and scheduling management, financial management, time management and contract negotiations, Franklin Covey project Management training and certification, as well, multiple Federal Government Intelligence Community trainings, for both unclassified and classified programs and systems. This training and certifications, for the Federal Government, including trainings and certifications with 6 major Intelligence Community Agencies. Currently, Mr. Gavin has a Cleared Top Secret (TS) / Sensitive Compartmented Information (SCI) Clearance since October 2011 and initiated in February 2012, at an EOD ceremony, at Fort Meade, MD.