Image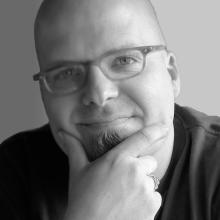 Art and Media Production
Bryan Anderson is the director of art and media production for the NFLC.
Bryan joined the NFLC in 2004 and was charged with improving the quality of existing audio systems and processes. Since then, he has led the creation of a robust art and media department that offers video and audio production, animation and visualization development, 3D modeling, print and graphic design services, user interface design, website development, and custom multimedia application development. To support this array of services, Bryan manages all requisite technologies and infrastructure, including a green-screen video studio, multi-camera video production systems, multiple video editing suites with high-end media workstations, audio recording spaces, media asset management systems, training room AV systems, streaming media servers, and web servers.
Over the years, Bryan has been the creative lead on many NFLC projects and has overseen the NFLC brand, including logo designs, marketing materials, trade show displays, and corporate identity systems. He has also served as the chair of the NFLC's strategic planning committee.
Prior to joining the NFLC, Bryan was the manager of digital media products in Product Strategy and Development for the Laureate Higher Education Group. He has been the owner of several small businesses, including an internet hosting company that was acquired in 2012.
Bryan earned a bachelor's degree in music theory from Azusa Pacific University with additional studies in computer science.