Image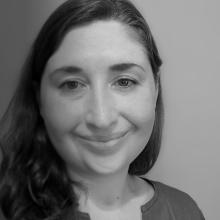 Lauren Pendley is the assistant director for editing at the National Foreign Language Center (NFLC) at the University of Maryland. She supervises, trains, and mentors editing team members, who support the goal of clear communication and the NFLC's mission of helping people understand each other and the world around them. Lauren seeks to improve the NFLC's editing knowledge, processes, and tools and to meet or surpass stakeholders' expectations of quality and timely delivery.
Lauren joined the NFLC as an editor in 2016, a role she held for five years. She worked on all the NFLC's products during that time, including high-stakes language tests and online language-learning and assessment objects. She also taught writers how to use plain language principles and how to write alternative text for images.
Lauren has worked with the software development, web development, and second language acquisition teams to make NFLC products significantly more accessible to people with disabilities. She advises the NFLC on Section 508 conformance and web accessibility for its websites, e-learning products, and assessment objects. She regularly performs Section 508 testing and has written Voluntary Product Accessibility Templates (VPATs) for NFLC products.
Before coming to the NFLC, Lauren was a project manager, project editor, copyeditor, and proofreader, working on books, textbooks, journals, assessments, and e-learning products. She has done in-house or freelance work in higher education, academic, professional, and trade publishing.
Lauren's academic background is in Slavic languages and literatures. She has studied at the University of California, Berkeley; Tomsk State University, Russia, on a State Department Critical Language Scholarship; Indiana University, Bloomington; and Amherst College. Lauren holds a bachelor's degree in Russian from Amherst College; a certificate in copyediting from the University of California, San Diego Extension; and a Trusted Tester (TTV5) certification from the Department of Homeland Security.